A book review of Miss you by Kate Eberlen for TLC Booktours.
Have you ever read a novel and through the whole book kept thinking that it would make a good movie? I felt that way with Miss You by Kate Eberlen. It has everything it needs for a good romantic comedy, with some heartfelt issues included.
The book begins in August 1997 with Tess. She is camping in Italy with her best friend Doll. The second chapter is August 1997 with Gus, who is also on holiday in Italy. That starts the journey of Tess and Gus, told in alternating chapters, almost meeting but leading separate lives, until we get to the final chapter of the book, July 2013.
Both characters face obstacles in their lives. When Tess's mother dies, she gives up her plans to go to a university to take care of her younger sister Hope. Hope, who turns out to be on the autism spectrum, is not always easy to take care of. Gus, finds himself in medical school, to make up to his parents the death of his brother.
They lead their lives, like ships passing in the night, until finally meeting in the last chapter.
Yes, it's a bit predictable, but sometimes I like my stories predictable.
I am hosting this for the TLC Book Tours, please check here to see all the other bloggers who are hosting and check out their reviews!
Usual disclaimer: I received no compensation for this review, other than a copy of the book. All opinions are my own.

Purchase Links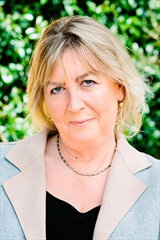 About Kate Eberlen
Kate Eberlen grew up in a small town thirty miles from London and spent her childhood reading books and longing to escape. She studied Classics at Oxford University before pursuing various jobs in publishing and the arts. Recently, Kate trained to teach English as a Foreign Language with a view to spending more time in Italy, a country she loves and has visited many times. Kate is married with one son.
Find out more about Kate at her website, and connect with her on Facebook, Twitter, and Instagram.